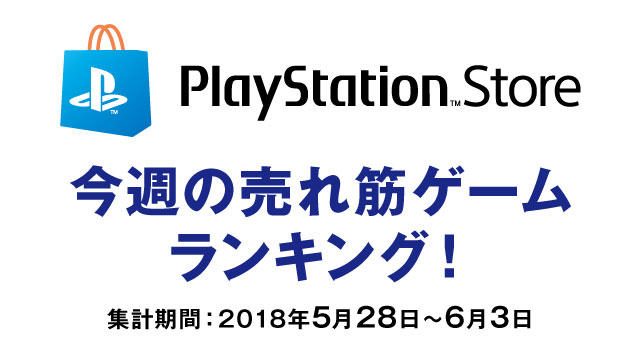 先週のPlayStation™Storeでの売れ筋ゲームソフトのランキングをご紹介! 毎週月曜日から日曜日までの売り上げを集計してランキング! お気に入りや話題のゲームの順位を早速チェックしてみましょう!
PlayStation®4
PlayStation®4のランキングは、先週に引き続き『DARK SOULS REMASTERED』が第1位! 第2位には、人気ヒーロー&ヒロインが一堂に会する2D対戦格闘ゲーム『BLAZBLUE CROSS TAG BATTLE』が登場! 
1位
2位
3位
PlayStation®Vita
PlayStation®Vitaでは、先週2位の『Bloodstained: Curse of the Moon』が第1位にランクアップ。第3位には、心優しい化け物と視力を失った幼い王子を主役にしたアクションパズル『嘘つき姫と盲目王子』が登場しています!
1位
2位
3位
基本プレイ無料
基本プレイ無料のランキングでは、先週2位だった『TROVE』が第1位にランクアップ!
1位
2位
3位
PlayStation™Storeのランキングページはこちら
©BANDAI NAMCO Entertainment Inc. / ©2011-2018 FromSoftware, Inc.
© ARC SYSTEM WORKS
©ATLUS ©SEGA All rights reserved.
© FRENCH-BIRD
© 2013 -2018 Rooster Teeth Productions, LLC.
© Sony Interactive Entertainment Europe. Detroit: Become Human™ "Detroit: Become Human" is a trademark of Sony Interactive Entertainment LLC. Developed by Quantic Dream.
©ArtPlay, Inc. / ©INTI CREATES CO., LTD.
UNDERTALE ©Toby Fox 2015-2017. All rights reserved.
©2018 Nippon Ichi Software, Inc.
©2018 Trion Worlds, Inc. Trove has been licensed by DMMGAMES. Trove and Trion Worlds are registered trademarks of Trion Worlds, Inc. All rights reserved.
Fortnite © 2018, Epic Games, Inc. Epic Games, Fortnite, Unreal, Unreal Engine 4, UE4, and their respective logos are trademarks or registered trademarks of Epic Games, Inc. in the United States of America and elsewhere. All rights reserved. The rating icon is a registered trademark of the Entertainment Software Association. All other trademarks and trade names are the properties of their respective owners.
All Rights Reserved By JFA All UEFA Champions League names, UEFA Europa League and UEFA Super Cup names, logos and trophies are the property, registered trademarks and/or copyright of UEFA. All rights reserved. adidas, the 3-Bars logo, the 3-Stripe trade mark and Climacool are registered trade marks of the adidas Group, used with permission. The use of images and names of the football players in this game is under license from FIFPro Commercial Enterprises BV. © 2017, DFB The FA is an official trade mark of The Football Association Limited and is subject to extensive trade mark registrations worldwide. Copyright FFF © Official Licensee of the FIGC All copyrights and trademarks are KNVB respectively Team Holland property and are used under license. Licensed by OLIVEDESPORTOS (Official Agent of the FPF) Producto Oficial Licenciado RFEF © 2002 Ligue de Football Professionnel ® Officially Licensed by Eredivisie C.V. and Stichting CAO voor Contractspelers ™ © 2017 THE ARSENAL FOOTBALL CLUB PLC, ALL RIGHTS RESERVED © S.L.B. Producto Oficial. Official Licensed Product of A.C. Milan Official product manufactured and distributed by KONAMI under licence granted by A.S. Roma S.p.A and Soccer s.a.s. di Brand Management S.r.l. Official Videogame(s) of CORINTHIANS All other copyrights or trademarks are the property of their respective owners and are used under license.