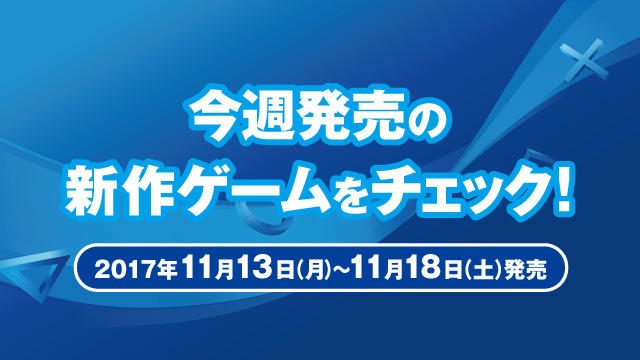 今週は新たな「スター・ウォーズ」の物語が描かれる『STAR WARS™ バトルフロント™ II』のほか、時を渡り、新たなる世界で大冒険が始まる待望の追加パッケージ『ドラゴンクエストX 5000年の旅路 遥かなる故郷へ』が登場! バーテンダーとして客に選んだカクテルによって物語が分岐展開していく異色のサイバーパンクアドベンチャー『VA-11 Hall-A (ヴァルハラ)』も要チェック!
また、人気シリーズのアップデート版『Plants vs. Zombies™ Garden Warfare 2 – フロスティースタンダードエディション (英語版)』と『MADDEN NFL 18: G.O.A.T. Holiday Edition (英語版)』が11月18日(土)より配信開始!
PlayStation®4(10タイトル)
PlayStation®Vita(2タイトル)
PlayStation®3(1タイトル)
※配信日・仕様などは変更される可能性があります。
©G-MODE Corporation / ©2017 HAMSTER Co.
All Rights Reserved By JFA All UEFA Champions League names, UEFA Europa League and UEFA Super Cup names, logos and trophies are the property, registered trademarks and/or copyright of UEFA. All rights reserved. adidas, the 3-Bars logo, the 3-Stripe trade mark and Climacool are registered trade marks of the adidas Group, used with permission. The use of images and names of the football players in this game is under license from FIFPro Commercial Enterprises BV. © 2017, DFB The FA is an official trade mark of The Football Association Limited and is subject to extensive trade mark registrations worldwide. Copyright FFF © Official Licensee of the FIGC All copyrights and trademarks are KNVB respectively Team Holland property and are used under license. Licensed by OLIVEDESPORTOS (Official Agent of the FPF) Producto Oficial Licenciado RFEF © 2002 Ligue de Football Professionnel ® Officially Licensed by Eredivisie C.V. and Stichting CAO voor Contractspelers ™ © 2017 THE ARSENAL FOOTBALL CLUB PLC, ALL RIGHTS RESERVED © S.L.B. Producto Oficial. Official Licensed Product of A.C. Milan Official product manufactured and distributed by KONAMI under licence granted by A.S. Roma S.p.A and Soccer s.a.s. di Brand Management S.r.l. Official Videogame(s) of CORINTHIANS All other copyrights or trademarks are the property of their respective owners and are used under license.
Published by Lionsfilm Limited
©2016 CYBIRD
©2017 Electronic Arts Inc. EA, the EA logo, Maxis, the Maxis logo, The Sims and The Sims plumbob design are trademarks of Electronic Arts Inc.
いくつかの条件と制限が適用されます。詳しくはwww.ea.com/games/starwars/battlefront/battlefront-2/disclaimersをご覧ください。
STAR WARS © & TM 2017 Lucasfilm Ltd. All rights reserved. Game code and certain audio and/or visual material © 2017 Electronic Arts Inc.
©2017 SystemSoft Alpha Corporation
WRC 7 FIA WORLD RALLY CHAMPIONSHIP © 2017 published by Bigben Interactive S.A. and developed by Kylotonn Racing Games. All rights reserved. An official product of the FIA World Rally Championship, under licence of the WRC Promoter GmbH and the Fédération Internationale de l'Automobile. Manufacturers, cars, names, brands and associated imagery featured in this game are trademarks and/or copyrighted materials of their respective owners. "WRC" and the WRC logo are registered trademarks of the Fédération Internationale de l'Automobile. All rights reserved. Licensed and published in Japan by Oizumi Amuzio Inc.
© 2012-2017 ARMOR PROJECT/BIRD STUDIO/SQUARE ENIX All Rights Reserved.
Copyright © 2017 Kalypso Media Group GmbH. All rights reserved. Published by Kalypso Media Group GmbH.
All other logos, copyrights and trademarks are property of their respective owner. © 2014-2017 Daedalic Entertainment GmbH.
The Dark Eye is published under license of Chromatrix GmbH. Das Schwarze Auge is a registered trademark of Significant Fantasy Medienrechte GbR. Blackguards, Blackguards 2 and the Daedalic logo are trademarks of Daedalic Entertainment GmbH. All rights reserved.
Published and distributed by H2 Interactive Co., Ltd.
©2017 Noowanda.
Licensed to and published by Rainy Frog LLC.
SUKEBAN GAMES All Rights reserved. Licensed by Wolfgame. Published by Active Gaming Media Co., Ltd.